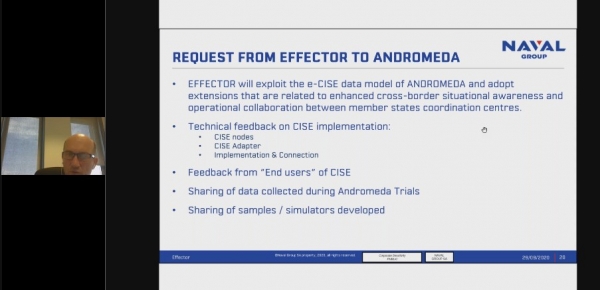 On the 29th of September 2020 the EFFECTOR project was presented at the 1st ANDROMEDA Workshop that was organized virtually. During the session under the title "Research results and lessons learnt from similar EU funded projects" the EFFECTOR project was presented by the NAVAL Group partner, Mr. Patrick Mugnier . Mr. Mugnier explicated the two main objectives of the project which are: a) use of under-utilised data and Artificial Intelligence to improve the search of weak signals; and b) connection of national systems to CISE to demonstrate its efficiency and benefits for practitioners. Continuing, the speaker presented the detailed objectives of the EFFECTOR project which are listed as follows:
Enhance the information sharing at local, regional, national and transnational level of advanced maritime situational picture and the interoperability with CISE and EUROSUR;
Interconnect underutilized surveillance data sources and legacy systems;
Improve knowledge extraction and decision support by introducing AI technics;
Provide enhanced interoperability at tactical and strategic level;
Strengthen the collaboration and cooperation of EU maritime safety and security Authorities and exploiting results and findings of previous relevant EU projects and initiatives;
Deliver realistic demonstration trials for a multiplicity of use cases;
Promote and contribute to CISE standardization efforts;
Ensure compliance with legal and regulatory framework of privacy and personal data protection.
The request of EFFECTOR project to ANDROMEDA is to exploit the e-CISE data model of ANDROMEDA and adopt extensions that are related to enhanced cross-border situational awareness and operational collaboration between member states coordination centres. Also, technical feedback on CISE implementation (CISE nodes, CISE Adapter, Implementation & Connection) and feedback from "End users" of CISE.