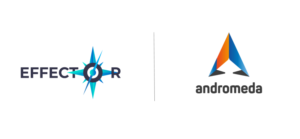 We are happy to announce the establishment of a dissemination cooperation amongst our project, EFFECTOR and the ANDROMEDA project.
In the framework of this collaboration, cross communication activities will be made aiming to promote both projects' results to a wider audience.
ANDROMEDA is an H2020 project which aims to unlock the full capabilities of the CISE by enhancing the Maritime CISE Model, extending its scope to the Land Surveillance Information Exchange and providing and demonstrating 100% compatible Command & Control, Data Fusion and Decision Support systems.
ANDROMEDA website: www.andromeda-project.eu
ANDROMEDA Twitter account: https://twitter.com/andromeda_h2020