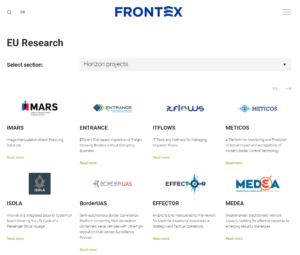 The EFFECTOR project is featured at FRONTEX website on section "Future of Border Control" together with other EU funded projects under Horizon 2020 programme. In total, sixteen H2020 projects with similar topic are listed and EFFECTOR can be found in the first page.
This section in Frontex website aims at providing an easy access to information on activities carried out by the Agency and relevant Horizon projects and thus to a wide range of research and innovation topics, potential products and services, and research and innovation networks of experts and users.
The EU Framework Programmes for Research and Innovation Horizon 2020 (2014-2020) and Horizon Europe (2021-2027) aim at strengthening Europe's innovation capability and ensuring EU's global competitiveness. The Border Security projects funded by the Horizon Programmes address a wide spectrum of technological capabilities critical for the European Border and Coast Guard, such as unmanned platforms, document fraud detection, situational awareness, biometrics, command and control, artificial intelligence, robotics, augmented reality, integrated systems and identification of illicit drugs. The investments made in the Border Security domain are of high importance to ensure Frontex can fulfil its strategic objectives: reduce vulnerability of the external borders, guarantee safe, secure and well-functioning EU borders, and further enhance European Border and Coast Guard capabilities.
You can read more here.