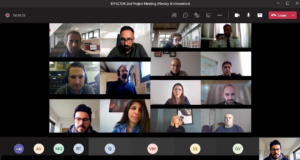 On the 22nd and 24th of March 2021, the EFFECTOR project team got together virtually for its 2nd Project Meeting (plenary meeting + Technical). During the first day, consortium partners presented the current status of all work packages and the work performed.
Moreover, the upcoming actions of each task were outlined.
The first day of the meeting closed with the Innovation Session where fruitful discussions were made on innovation and IPR aspects.
The second day of the meeting focused on technical aspects of the project accompanied with detailed progress status and planning.