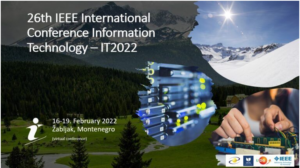 Our project will be featured at the upcoming IEEE IT2022 conference in Žabljak, Montenegro.
The EFFECTOR project will be presented in the session dedicated to IT-related projects implemented in the region and EU.
Also, a conference paper titled "Planning a Case for Shared Data Retrieval across the European Maritime Common Information Sharing Environment" will be presented during the conference. The paper outlines an example method and trial scenario phases for extending the existing tools for maritime surveillance across the maritime regions of Europe, using advanced features of Common Information Sharing Environment (CISE), which is an EU initiative for ubiquitous information sharing across the maritime safety and border control agencies.
More information about the conference can be found on the following link: http://www.it.ac.me/eng/