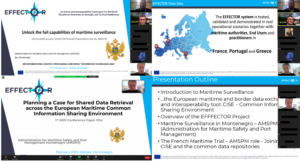 The EFFECTOR project was featured at the recently finished IEEE XXVI International Scientific-Professional Conference "INFORMATION TECHNOLOGIES 2022" (IT2022 conference) in Montenegro, which was held in online mode, on 16th February 2022.
Our project has been presented in the "Project results" session dedicated to IT-related projects implemented in the region and EU. There have been disseminated some of outstanding results and efforts of EFFECTOR consortium, under the title "Unlock the full capabilities of maritime surveillance", presenting the motivation of the project, its goals, structure & solutions, demonstrator and impacts related to CISE interoperability framework.
The focus was on project enhanced approach to make stronger collaboration between national agencies in domain of maritime safety and surveillance. The following discussion was concerned about using advanced methodology for vessel traffic data exchange from heterogeneous data sources, support of decision making tools and its integration in multilayered Data Lake.
Also, a conference paper titled "Planning a Case for Shared Data Retrieval across the European Maritime Common Information Sharing Environment" prepared in collaboration of partners from AMSPM, ENG, SATWAYS, IRIT, PT Navy and SG MER involved in French Maritime Trial, has been presented on the conference. The paper outlines an example method and trial scenario phases for extending the existing tools for maritime surveillance across the maritime regions of Europe, using advanced features of Common Information Sharing Environment (CISE), which is an EU initiative for ubiquitous information sharing across the maritime safety and border control agencies.
The project's French maritime trial offers an implementation of the broadened scope of uses of advanced data exchanges, analysis storage, and retrieval. Specifically, a case of data analysis and deductions was demonstrated through collaboration of AMSPM in the French maritime trial with other project partners.
More information about the conference can be found on the following link: http://www.it.ac.me/eng/