Author: Portuguese Navy
The Southern part of the Iberian Peninsula and the whole coast of Portugal has a significant vessel traffic, namely from Asia, the Mediterranean Sea to northern Europe and eastern coast of the American continent. Along with that, is essential for Portugal the vessel traffic control and monitoring, pollution monitoring, mainly due to oil spill, or the illegal traffic, all identified as the major concerns of the Portuguese Maritime Authorities.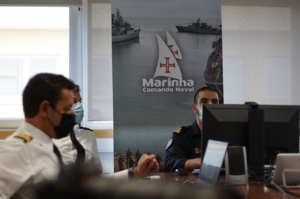 The increasing maritime traffic along the Portuguese borders or, in a larger sense, in the Portuguese Area of Responsibility, stimulate the need of using a wider variety of data sources, by optimizing the data processing, improving the information sharing internally, with other Portuguese entities and across EU member states. With all this challenges, the Portuguese Navy decided to take part in The EFFECTOR project, with several activities, operationally traduced by the trial occurred in April 2022.  The trial was hosted by the Portuguese Navy in collaboration with technical partners INOV, Engineering, Satways and CLS to test three different relevant scenarios: naval control and guidance, illegal activity, and oil spill, that allowed the demonstration of tools and the development for enhanced Maritime Surveillance and Border Security. Being the precursors of the first trail played, a lot of lessons were learned that helped the development of further trails. Besides the enrollment of Maritime Operation Center of the Portuguese Navy, a fast patrol boat was employed, allowing the simulation of abnormal activities to be detected by the systems and modules developed in the project.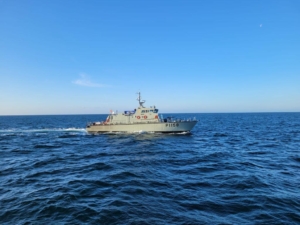 The objectives of the trial were accomplished by the enhancement of the prediction, survey capability and the faster reaction to incidents that are related to illegal activities. But also, the seamless integration of data in the EFFECTOR Interoperability Framework and their exploitation for enhancing the situational awareness at a local, regional and national level between all the actors. The detection of possible abnormal behavior patterns of vessels used for illegal activities and common intervention in case of maritime accidents, in conjunction with the use of better performing tools for earlier detection of suspicious vessels and identification of threats even in high traffic density, was experimented and all the goals achieved; by demonstration of the advanced C2 systems interoperability through CISE and situation awareness through the advanced Data Fusion and Analytics services, the results achieved were overwhelmed.
The EFFECTOR project through the Portuguese trial execution, allowed the systems implementation of a multilayered data lake platforms, facilitating data sharing at tactical and strategic level for enhanced border and external security. The tested scenarios related to the geographic positioning for the naval control and guidance to monitor the activities allowing for better maritime situational awareness were fully accomplished for the satisfaction of all the stakeholders involved and the Consortium.